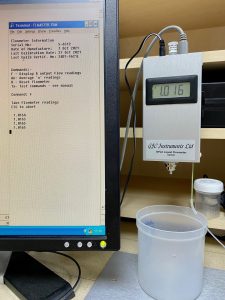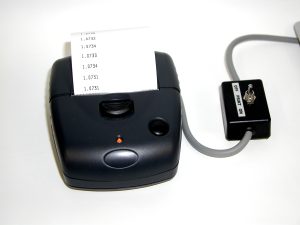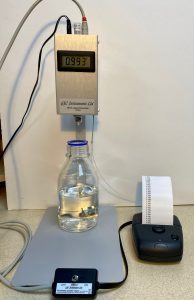 Digital Liquid Flowmeter Calibration
Flowmeters are calibrated gravimetrically against water. We take "as found" readings at 1.0 ml/min before cleaning your flowmeter. If you require "as found" readings at other flow rates please specify this at the time of placing your recalibration order.
After cleaning the flowmeter is recalibrated at 1.0 ml/min (this flow rate is compulsory) and any other flow rates you request. Most customers request a triple point calibration covering 3 flow rates from the range they normally use the flowmeter, e.g., 0.5, 1.0 & 2.0 ml/min.
The linearity of the flowmeter is also checked during the calibration process.
Flowmeters we calibrate include all GJC Instruments and GJC Instruments Ltd flowmeters (model 5025000 / Part 2000, GJC10001, GJC10003) and the older type Phase Separations Flowmeters (PSL680001, 900511, 900512, 900503, 900504). For all other instruments please email gjcinstr@btinternet.com to enquire before sending your flowmeter to us.
Peak Output Simulator (POS) Recalibration
We offer calibration services for our MK11 POS (AG2500) and older Phase Separations POS models.
Please email gjcinstr@btinternet.com for a calibration quote or for further help.
How to return your instrument for recalibration
All instruments must be returned to our laboratory here in the UK for recalibration.
Please download and complete the appropriate Returns Form, all our forms can be found on the Documents page. Send this form together with your instrument and your Official Company Purchase Order to:
GJC Instruments Ltd,
North West House,
Chester Road,
Tattenhall,
Cheshire,
CH3 9AH,
United Kingdom.
If you are based outside the UK please take care to include a commercial shipping invoices for Customs. To avoid paying unnecessary import duties into the UK, we suggest you  keep the value of your instrument to £100 GBP / $150.00 USD or Euro
Please email gjcinstr@btinternet.com for a quote or for further help.
North West House, Chester Road, Tattenhall, CH3 9AH